C. Eugene Stephens
26th State Treasurer: 1925-1929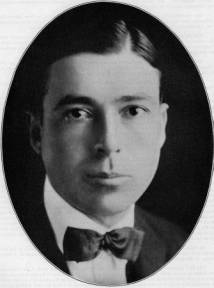 C. Eugene Stephens (Republican), the 26th State Treasurer, was born on a farm near Kirksville, Mo., on Dec. 20, 1889. His family moved to St. Louis County in 1900.

He received his education in the public schools of Adair County and St. Louis County, and subsequently received extensive banking experience in the St. Louis area. Mr. Stephens served as deputy clerk of St. Louis County for two years, prior to his appointment as chief clerk in the office of the state auditor in 1917. In 1921, he was appointed chief clerk in the office of the secretary of state.

He was elected state treasurer on Nov. 4, 1924, at a salary of $3,000 annually. During his term, he added a mail clerk and gas tax clerk, making a total of 28 persons employed by the State Treasurer's Office.

After leaving the treasurer's office, he became affiliated with the gas service of Kansas City, a position he held to retirement.

He was married to Marry Ann Wilson of St. Louis County on Dec. 29, 1911, and they had two children. Mr. Stephens died June 25, 1970.