> Elijah Gates
14th State Treasurer: 1877-1881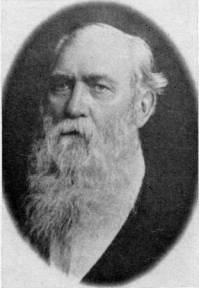 Elijah Gates (Democrat), the 14th State Treasurer, was born in Garrard, Ky., on Dec. 17, 1827. He moved to Missouri at 20-years-old, and settled on a farm in Buchannan County.

At the outbreak of the Civil War he enlisted in the Confederate Army, and was captain of Company A-Missouri State Guard, Morgan's Division. He eventually became colonel of the First Missouri Confederate Cavalry. He later formed a regiment at Springfield, and served under General Sterling Price. Subsequently, he was in practically all of the engagements of the Missouri troops in Mississippi and Alabama, and lost an arm at the Battle of Franklin. Colonel Gates' last battle was at Blakely, Alabama, the day General Lee surrendered to Grant at Appomattox in 1865. General Price once said of Colonel Gates, "He was the bravest man I have ever known." His obituary in the St. Joseph News Press (3/4/1915) stated, "Colonel Gates was wounded 5 times, had 4 horses shot under him and was captured by the Federal forces 3 times."

He returned to his farm after the war and was elected sheriff of Buchanan County in 1874. In 1876, he was elected state treasurer, serving four years. He employed two people in his office, a chief clerk-cashier and a bookkeeper, and was allowed $3,000 per year for clerk salaries. The legislature also appropriated $500 per year for contingent expenses. Although Mr. Gates salary remained unchanged at $3,000 per year, the legislature raised the required bond to $500,000.

Following Colonel Gate's tenure as state treasurer, President Grover Cleveland appointed him U.S. Marshal of Western Missouri. He was later engaged in the transfer and bus business in St. Joseph.

He was married to Maria Stamper of Livingston County in 1852, and had 12 children. Colonel Gates died March 4, 1915 in St. Joseph.