George Caleb Bingham
8th State Treasurer: 1862-1865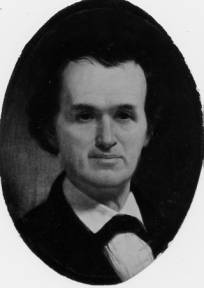 George Caleb Bingham (Democrat), the 8th State Treasurer, was best known as "The Missouri Artist," as his genre and portrait paintings are quite famous. He was born in Augusta County, Va., on March 20, 1811. The family moved to Howard County, Mo., and later to a small farm near Arrow Rock in Saline County.

A small library and his mother's tutoring were his principal forms of education. Although his first passion was art, he became quite prominent in Whig politics and was elected state representative in 1848. During the Civil War, he returned to Missouri from a vacation in Europe and was appointed state treasurer in January 1862. His salary was $1,750 per year, but was raised to $3,000 in 1864, at which time $1,000 per year was appropriated for the pay of bookkeepers and clerks in the treasurer's office.

Mr. Bingham later became adjutant general from 1875-1877, and was head of the art department at the University of Missouri from 1877-1879.

Mr. Bingham's family life was tragic: his first two wives died, several of his children died in infancy and a surviving son was lost while in his early 20s on a trip to Colorado. Bingham spent many months and much money trying to determine the fate of his son.

Bingham died in Kansas City on July 7, 1879, and is buried at Union Cemetery in Kansas City.