Harvey Wallis Salmon
12th State Treasurer: 1873-1875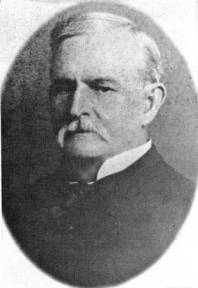 Harvey Wallis Salmon (Democrat), the 12th State Treasurer, was born Jan. 26, 1839, near Greenville County, S.C., and, on moving to Missouri, settled in Morgan County. At 13-years-old, he clerked in a store in Versailles, and in 1859, he and his brothers were partners in a general store.

During the Civil War he became a member of Colonel McCullough's Regiment of the Missouri State Guard in which he became a captain, and engaged in the battles of Carthage, Wilson Creek, Dry Wood and Lexington. He left the army in November 1861, and returned to Morgan County where, while engaged in recruiting for the Confederate Army, he was captured by Federal troops and confined for ten months. Upon his release he returned to the Confederate Army and served as an officer on General Parson's staff.

Following the war, he settled in Clinton, forming a banking and real estate business with his brother. The business became known as Salmon and Stone, and was the first bank in Henry County. In 1872, he was elected state treasurer at a salary of $3,000 per year. He was appropriated $3,000 annually for staff salaries. Although interest on the state's deficit was very high when he entered office, the public debt was reduced by more than $1 million during his term. Mr. Salmon became prominent in the Democratic Party, serving as chairman of the executive committee during the 1892 and 1896 campaigns.

He was married to Mary Katherine Kimbrough of Springfield and they had four children. He died in St. Louis on April 27, 1927, in the Missouri Baptist Sanitarium, and is buried at Englewood Cemetery in Clinton.