Larry Brunk
27th State Treasurer: 1929-1933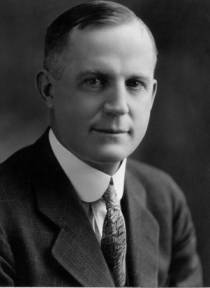 Larry Brunk (Republican), the 27th State Treasurer, was born Feb. 9, 1883, in Franklin County, Mo., and was educated in the public schools of Aurora.

As a youth, he worked in mining in the Aurora area, became a foreman, and later gained a financial interest in several of the mines. Mr. Brunk served as Mayor of Aurora for four terms. He was elected to the state senate in 1922, served in the 52nd and 53rd General Assemblies and was re-elected in 1926.

Following the 1925 session, Governor Sam A. Baker appointed him purchasing agent for the Department of Penal Institutions. The governor then advanced him to the position of secretary of the Public Service Commission. After 13 months on the commission the governor asked him to accept the office of secretary to the Workmen's Compensation Commission, where he served until the campaign of 1928, when he was elected state treasurer.

As treasurer, he received a $3,000 annual salary, employed a total of 33 persons in 1930 and 30 in 1932. After serving as state treasurer, he entered the motorcar business in Jefferson City until 1937, when he returned to Aurora to the mining industry.

He was married Feb. 1, 1918, at Fort Smith, Ark., to Anna Urschel of West Plains, Mo., and they had one son. Mr. Brunk died Nov. 22, 1956.