Mount Etna Morris
33rd State Treasurer: 1949-1953
35th State Treasurer: 1957-1961
37th State Treasurer: 1965-1969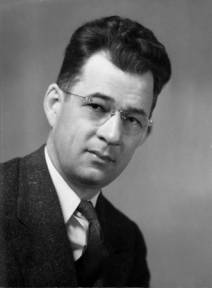 Mount Etna Morris (Democrat), the 33rd, 35th and 37th State Treasurer, was born in Dadeville, Mo., on Sept. 1, 1900. He was educated in the Dadeville Public Schools, Walnut Grove High School, Southwest Missouri State College and the University of Missouri. He served his country in World War I.

Mr. Morris organized and operated the Peoples' Bank of Miller from 1928-1936, and represented Lawrence County in the legislature for two terms, from 1932-1936. In 1936, he became executive officer of the Trenton National Bank, also serving as chairman of the Committee on Legislation of the Missouri Bankers Association and a member of the Board of Regents of Northwest Missouri State College. He became commissioner of the State Division of Finance in April 1945, and then appointed director of the newly created Department of Revenue on July 1, 1946.

In November 1948, Mr. Morris was elected state treasurer at the annual salary of $7,500. He was able to operate with 28 employees because of the transfer of tax agencies to the Department of Revenue.

Upon expiration of his term as state treasurer, Governor Phil M. Donnelly reappointed him Director of Revenue where he served through 1956. In 1956, he was again elected state treasurer at the increased salary of $15,000 per year, with a total of 24 employees. He served a third term as state treasurer from 1965-1969.

He was married to Helen Adamson of Everton on Dec. 24, 1922, and they had two children. He died July 8, 1988.