Scott Fitzpatrick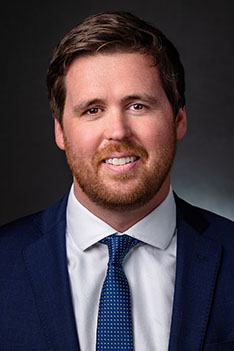 Scott Fitzpatrick was sworn in as Missouri's 47th Treasurer on January 14, 2019. He was elected to a full-term on November 3, 2020.
Fitzpatrick's record as Treasurer reflected his commitment to fiscally conservative values as well as his support for small businesses and Missouri families.
As the state's Chief Financial Officer, Fitzpatrick was actively engaged in the management of state funds. The state's investment portfolio surpassed $17 billion for the first time in Missouri history during his administration—up from $3.6 billion when he took office. Missouri continues to maintain its AAA bond rating, the highest rating issued by Standard & Poor's, Moody's, and Fitch Ratings, one of the few states with the distinction of a triple-triple credit rating.
During his tenure as Treasurer, Fitzpatrick tripled the size of MO ABLE, Missouri's savings and investment program for individuals with disabilities and their families. Fitzpatrick also worked to make MOST, Missouri's 529 Education Plan, more cost-effective for account owners. The plan was one of the highest rated 529 plans in the country when he left office.
Underscoring Fitzpatrick's commitment to Missouri families, Missouri's first K-12 scholarship program launched in 2022. Passed by the legislature in 2021, MOScholars provides state tax credits for contributions that provide scholarships to Missouri students with Individual Education Plans (IEPs) and students living in low-income households. In its first year, the program has provided scholarships to more than 1,300 students across the state to attend schools of their choice.
In his four years as Treasurer, Fitzpatrick returned record amounts of Unclaimed Property to Missourians. He became the fastest Treasurer in state history to return $1 million, doing so in just his first nine days in office. In addition, he launched innovative partnerships with the Department of Social Services and the Department of Labor and Industrial Relations Division of Employment Security to help reunite Missourians with their Unclaimed Property. These partnerships represented good government in action.
As Treasurer, he was committed to promoting government transparency and efficiency at all levels. This commitment resulted in the expansion of the Show-Me Checkbook, one of the most comprehensive state financial data portals in the country, to include local governments. More than 30 county governments joined under his leadership.
Fitzpatrick was first elected State Representative in 2012, at the age of 25, to represent Barry and portions of Stone and Lawrence counties. Serving as Chairman of the House Budget Committee in 2017 and 2018, he was responsible for the drafting and passage of Missouri's $28 billion annual operating budget. Under his conservative leadership, the State's budget surplus nearly tripled to almost $500 million, while Missouri schools were fully funded for the first time in nearly a decade.
When he was 17 years-old, Fitzpatrick started his own company, MariCorp U.S., a Shell Knob-based marine manufacturing and construction company.
A lifelong Missourian, Fitzpatrick graduated from Cassville High School and the University of Missouri. When he left office, he and his wife Mallory had three sons, Luke, Carson, and Noah and were expecting their fourth son in April of 2023.