Past Treasurers
William Quintilis Dallmeyer
10th State Treasurer: 1869-1871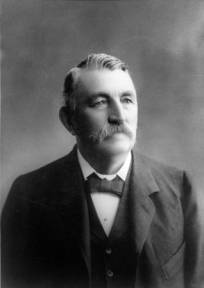 William Q. Dallmeyer (Republican), the 10th State Treasurer, was born Oct. 23, 1829, in Hanover, Germany.

He came to America in 1845 and lived, first in New York City, then New Orleans and then in St. Louis, where he was engaged in the dry goods business. In 1856, he moved to Gasconade County where he established a general store, farmed and became justice of the peace and postmaster. During the Civil War he served in the Home Guard and then Dallmeyer's Battalion, where he served as Lieutenant Colonel.

In 1864, he was elected a member of the legislature, and served through the extra session, and in 1866 was chosen for a second term. He was elected state treasurer in 1868 at a salary of $3,000 and moved to Jefferson City, where he made his home. The legislature allowed him contingent expenses of $800 annually.

In 1874, he became cashier of the First National Bank in Jefferson City, serving until 1882. He later became cashier and president of the Exchange Bank. He was a member of the Jefferson City School Board for 18 years.

He was married to Sophia Lang and had five children. He died March 15, 1908.